Press Release
Blank Rome's Alan Hoffman Named a "2016 Most Admired CEO"
Blank Rome LLP is pleased to announce that Chairman and Managing Partner Alan J. Hoffman has been named a "2016 Most Admired CEO" by the Philadelphia Business Journal. The list of 27 leaders includes representation from a wide range of industries and top organizations in the Greater Philadelphia region, and Mr. Hoffman is the only law firm leader among the group. The winners will be celebrated at a dinner and awards program on December 1. For additional information, please click here.
"It is an honor to be selected as a Most Admired CEO along with such accomplished and admirable leaders from across the region," said Mr. Hoffman. "This award is shared with my Blank Rome colleagues, in recognition of all that we have accomplished together over the past five years to advance our Firm, support our clients, and give back to the communities in which we live and work."
Mr. Hoffman was named chairman in 2014, and has served as managing partner since 2011. He served as co-chairman from 2008 to 2013, and as the Firm's litigation department head from 1996 to 2008. As chairman and managing partner, he oversees Blank Rome's day-to-day operations, implements the Firm's growth strategy for its expanding national and international platform, and manages the overall leadership, direction, profitability, and culture of the Firm.
To view Mr. Hoffman's published profile, please click here.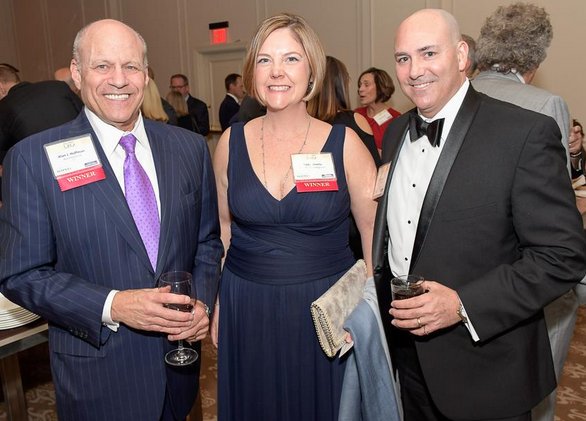 Alan Hoffman with Peggy and Ron Gionta at the "Most Admired CEOs" award ceremony on December 1, 2016.